So you've ordered your tomatoes to plant in your garden this year. Now what? Everything you need to know about growing your best crop in 2021!
What tomatoes should I plant?
Why does growing days matter?
We only sell tomatoes that you can successfully grow in our short growing season. Our value pack gives you six different tomatoes with different finishing times! Let us make the decision for you!
Days to maturity means the number of days it takes for the plant to grow a juicy ready to eat fruit! Some varieties like our patio tomatoes produce ready to eat fruit as early as July which is about a month earlier than garden varieties!
Determinant Type Tomatoes
Manitoba, Roma, and Tiny Tim
Determinate or "bush" varieties stop growing at about 3 feet tall. These compact plants fruit all at once, and tend to be good for making sauce or canning (when you'd want a lot of tomatoes all at once). Most bush tomatoes like a cage and some are well suited to pots or patio containers.
Indeterminant Type Tomatoes
Lemon Boy, Better Boy, Big Beef, Brandywine, Champion
Indeterminate varieties will keep on producing fruit throughout the season until the plant is killed by frost. These plants get quite large and will definitely need some kind of tall supports (at least 5 feet) so stake or cage your plants early. If fruit sprawls across the ground, they will be prone to disease. Indeterminates are great for salads and sandwiches.
Where should I plant my Tomato?
What kind of light does a tomato need to grow best?
Sun sun and more sun! Tomato plants will produce more fruit when given at least 8 hours of direct sun a day. Choose a spot in your yard that is protected from the wind to reduce stress. Most tomatoes prefer to be planted in large raised beds or gardens as they are able to retain more water for use on those hot summer days. If you're growing patio pots then just be sure to water more frequently.
What is Blossom End Rot?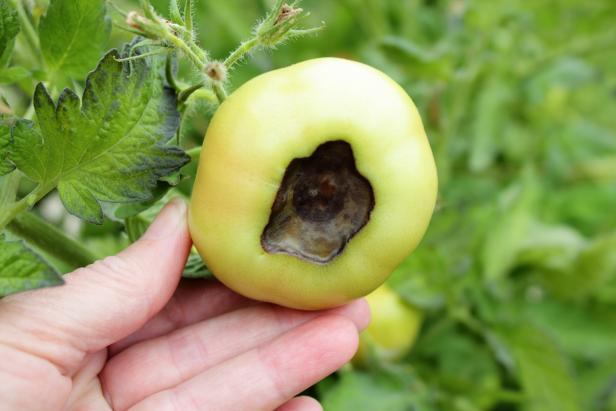 Photo by Jean Faucett / Shutterstock.com
The main cause of blossom end rot for many growers is inconsistent watering especially in the hot summer months. Tomatoes need consistent moisture in their soil as the fruit is developing. If grown in gardens or large raised beds they need to be watered at least one to two times a week thoroughly. If grown in large patio containers in the hot summer months it could be twice daily depending on the location in your yard.
Be sure to fertilize regularly with low nitrogen high phosphate fertilizer all season long to ensure that the plant has enough food to grow your food! You can use organic or conventional fertilizers as long as they are designed for use on tomatoes. These specialized fertilizers have been developed to specifically grow tomatoes so be sure to read the directions on the label.
Calcium is an important mineral that is utilized in the development of the fruit. When the tomato plant is allowed to wilt it will prioritize the calcium to be used in the growth of the plant rather than in fruit development and this causes blossom end rot or cracking of the fruit.

So many more varieties available in store!From the new Proven Winners Line of Tempting Tomatoes to heirloom species like oxheart we have more than just your standard selection available! Don't have patio space but a hook to hang a basket? Our Tumbler Tomatoes give hundreds of juicy red cherry tomatoes that you will be begging your neighbors to take some!